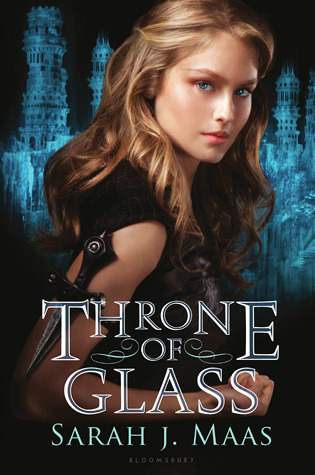 After serving out a year of hard labor in the salt mines of Endovier for her crimes, 18-year-old assassin Celaena Sardothien is dragged before the Crown Prince. Prince Dorian offers her freedom on one condition: she must act as his champion in a competition to find a new royal assassin. Her opponents are men-thieves and assassins and warriors from across the empire, each sponsored by a member of the king's council. If she beats her opponents in a series of eliminations, she'll serve the kingdom for three years and then be granted her freedom.
Celaena finds her training sessions with the captain of the guard, Westfall, challenging and exhilarating. But she's bored stiff by court life. Things get a little more interesting when the prince starts to show interest in her... but it's the gruff Captain Westfall who seems to understand her best.
Then one of the other contestants turns up dead... quickly followed by another.
Can Celaena figure out who the killer is before she becomes a victim? As the young assassin investigates, her search leads her to discover a greater destiny than she could possibly have imagined
.
I dived into reading this book blindly. I have heard/seen this one around the book community and heard it was about a girl who was an assassin. That was pretty much the extent I knew of it. And I really just never thought to look more into it.
One day I saw it, bought it and when it arrived, was like 'I'll browse through it tonight'...then BAM! I pretty much read this book in about two days.
This book does very into multiple points of views but is written well that it flows together. Even though I can be a bit fussy when it comes to reading multiple people's views I still loved this book.
I was hooked to the story from the beginning and was still intrigued to find out what was going to happen on the next page half way through. It has fantasy, magic, action, adventure and even a slight love triangle forming. And although there was a love triangle forming it thankfully wasn't what this book solely evolved around.
At times some events, past stories and plot twists popped up unexpectedly. And usually I'd pick at those types of things, but it kind of played out well in the end that I didn't mind how they came about.
I love the dialog and wittiness that was contained in this book. And, at multiple times, I even found myself giggling and hollering out load (to my own embarrassment).
Overall I just loved it. This book really did surprise me, and in a way I'm glad I plunged into it without much knowledge of the story. I think it deserves the five stars of Goodreads.
Now, onto the second book! :D
- Heir of Fire #3 (Sept 2014)
- The Assassin's Blade (Novellas)
Publisher: Bloomsbury Publishing
Book Format: Paperback, 432 pages